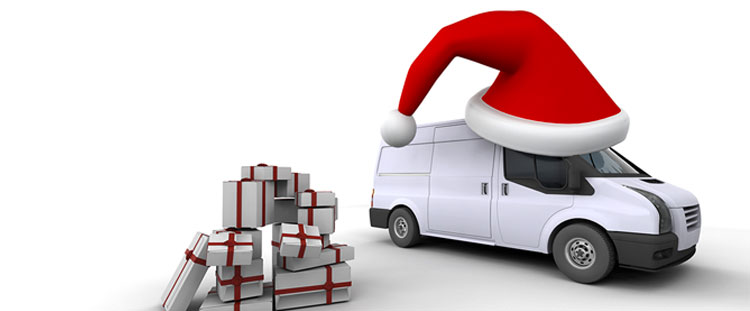 For the Christmas Season, third party logistics' demand and customer expectations rise exponentially. The threshold between success and failure in an on-time delivery becomes extremely narrow.  What can we do to cope as a fleet operator?
A logistical endeavor for Santa
Time ago, the BBC asked experts in physics and supply chain, how would Santa Claus be physically able to deliver his toys on time on Christmas Eve, here are some of the answers
Roger Highfield, author of the Physics of Christmas, calculated that by December 24, Santa would have to make 850 million deliveries in 24 hours.
Ian Silverton, FedEx director of operations in Spain and Portugal, said: "if Santa needed to borrow my company's flagship technological asset, I would lend him a tracking and tracing capability".
Jim Daniell, UPS head of Public Relations told the BBC that Santa would need a device that would both access to GPS tracking solutions to monitor deliveries, "and communicate to his  center in the North Pole". He should use a software to design and plan his routes.
"With wireless networks, Santa Claus could resend data in real time, receive las minute information on a child that is still awake and make the most of his geographic location to make the most amount of deliveries in the least possible time."
This is not just a Christmas story. Around the world, last mile distribution for the holiday season requires enormous global logistics effort, with increased planning, visibility and flexibility. Customers' expectations are at an all-time high.  
Why are transportation & logistics struggling on Christmas?
The holiday season is the best and worst of times, some say. "It is great because everyone is busy and the economy looks good", John Heckman, president of the Merchant Shippers Cooperative Association (MESCA) tells Inbound Logistics. "But on the downside, capacity is tight, and shipments are extremely sensitive with regard to planning and replenishment," he adds.
According to Time Magazine, it's been difficult for e-retail operations and delivery services to keep up with the mad rush of online purchases.
"This goes especially because consumers have come to demand free shipping with online purchases, and retailers have been trying to minimize the costs incurred by offering free shipping on standard ground (i.e., slower) shipping."
For instance,
2013 was a nightmare for delivery companies. UPS acknowledged that their network was overloaded and the system "couldn't manage the resources necessary to ensure timely delivery, and thus, real people felt the burden in real-time."
2014 followed kin. "Even the largest carriers with the most resources weren't sufficiently prepared for the rush of last-minute deliveries and many packages did not arrive on time for the holidays," said David VanAmburg, ACSI Director.
Amazon had to step into the plate. La Tercera reported that the company used 15 thousand robots in the United States for 10 of its warehouses, to cut operation costs to a fifth and have the packages ready for Christmas.
Step 1: Preparation
To cope with demand, stores and retail needs to combine an in-house delivery fleet with third party logistics providers.
Luis Anabalón, Assistant Manager of Logistical Operations at Chile´s Cencosud, pointed out to  Logistec that department stores have inventories with clearly defined seasons such as Christmas, making product rotation a challenge.
"It's most inconvenient for them to have a dedicated fleet hired with a fixed rate for specific pics a year. That would mean that the fleet is oversized for most of the year, and you stick with teams with very few activities. In the long run the service becomes more expensive."
Step 2: Visibility
According to the NRF retail holiday planning playbook, "a single view throughout the supply chain is more important than ever. Greater inventory control also feeds another retailer desire: being able to offer increased options in shipping and delivery."
That is why, on the other end of the supply chain, retailers expect to invest in solutions that will simplify processes, increase visibility and harmonize operations, with speed, flexibility, and security.
Step 3: Analytics
Analizing data is always a must, specially on pick seasons. Nathalie Regniers, an industry and solution strategy director told Supply & Demand Chain Executive  that "within the demand planning process, historic profiles should be captured to understand uplift and lag behaviors".
She adds that, when holidays fall on the same date every year, such as Christmas, "it's important to use a learning forecast engine that adapts to changes in seasonality and growth."
Step 4: Technology
Forbes contributors say that the ability to provide on-time deliveries now meets only a "minimum standard of success", and announces:
"Logistics companies that don't prioritize technology in order to meet that demand will likely be left behind."
Optimization software solutions are a necessity. To ensure a successful and happy holiday delivery season, Inbound Logistics recommends companies to "focus on technology that allows the system to react in real-time to whatever comes its way. The magazine adds that a more efficient allocation of resources allows shipping companies to:
Better manage their delivery service
Keep their customers happy,
Avoid being deemed the "Grinch" of the holiday season.
How is your supply chain preparing for the Christmas Season? What steps are you taking?